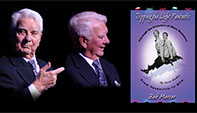 Through the Evolution of Show Business From Vaudeville to MTV
This is the real-life story of Bud and Jim Mercer who worked as a team in show business for more than 70 years–from the early days of the Great Depression into the 21st century. Tripping the Light Fantastic is filled with anecdotes about The Mercer Brothers who shared the stage with the famous and not-so-famous. The book is an inspirational story of perseverance, dedication, and the love of show business.
The story begins in Dayton, Ohio where Bud was born in 1913 and ends in 2003 in Palm Springs, California with The Mercer Brothers' eleven-year run with the Palm Springs Follies. In between, there were many towns, stages, performances, adventures, and moments to remember – and Bud does the remembering for us.
The Mercer Brothers' professional career began on stage in Los Angeles during the depression. Performing in nightclubs and theaters primarily as a dance act – thus Tripping the Light Fantastic – the brothers eventually added comedy routines, banjos, and other instruments to their repertoire increasing their appeal and marketability and changing the act over the years to fit the times. With the exception of two brief interludes, one of which was WWII, the brothers made a living performing their act – not as stars, but as talented professionals.
So, for those of you who have decided to read this epic hang on to Bud's coattails and Trip the Light Fantastic through the evolution of show business as seen through the eyes of this
Happy Old Hoofer.